Further to Mr Dross' post below....
Shares in issue for Caza Oil & Gas Inc are 119,319,000. However, Caza Oil & Gas Inc only holds 81.3% of Caza Petroleum which holds the operating subsidiaries. The remaining 26,502,000 shares in Caza Petroleum are held by the management and are locked in with no transfers permitted. This gives an effective total of 145,821,000 shares. The diagram below is from page 8 of the
2009 AIF: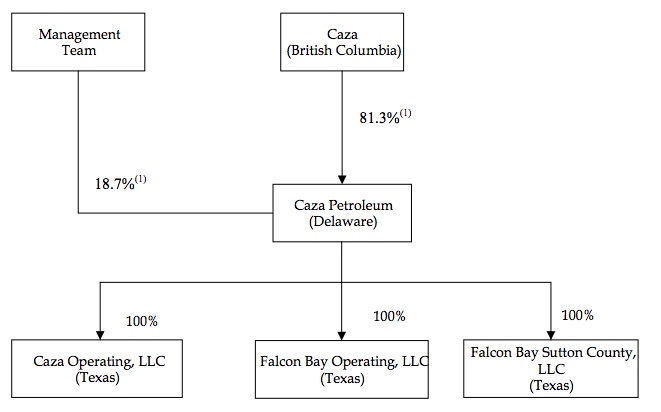 There are also a small number of warrants and share options. There are currently 3,069,000 warrants outstanding at an exercise price of $1. 2,535,500 expire on 20 November and the remaining 533,500 expire 12 December 2010. They look likely to expire unless we have one hell of an RNS! Note 16.7m warrants expired in September.
There are also 13,041,667 share options outstanding of which 4,131,667 were exercisable at 30 June 2010 per
Q2 results
. The average exercise price was $0.29 ($0.64 exercisable). 7,950,000 options were granted in March to May this year with exercise price of $0.07. With the share price increasing the options actually come into account rather than being anti-dilutive as previously.



Posts

: 5


Join date

: 2010-10-27



I need to go through that doc a bit (lot!) more; I don't fully understand the exchange scheme. But here is what I have gleaned so far:-

CAZA PETROLEUM has a limited number of shares issued (50 odd k). However each of these issued to the management teams is "worth" 2800 of the CAZA inc common stock.But yes, in terms of the common stock there is 120 mln issued and the management team shares (in caza petroleum) can be exchanged at 2800 to 1 for the common stock (hence the 26.5 mln).

I don't believe the management are entirely locked in. What they can't do is sell CAZA PETROLEUM on the open market, they could (in theory) exchange the Caza petroleum shares for Caza shares through CAZA inc (though where are those shares going to come from?)

"Share Exchange Agreement – The Share Exchange Agreement provides that the Management Team may not transfer their Caza Petroleum Shares (other than among themselves and family members) to any party other than Caza. In addition, the Management Team has the right at any time to exchange the Caza Petroleum Shares currently held by them for an aggregate of 26,502,000 Common Shares based on an exchange ratio of 2,800 Common Shares for each Caza Petroleum Share held, subject to adjustment in certain events. In addition, the Corporation has the right to cause each member of the Management Team to exchange his Caza Petroleum Shares for Common Shares in certain circumstances, including upon a
change of control, liquidation, sale of substantially all of the assets, or bankruptcy of the Corporation or of Caza Petroleum, or the divorce, death, incapacity of a member of the Management Team or a breach by a member of the Management Team of the Share Exchange Agreement"

I think we can safely assume that there will unlikely be any substantive changes in the management holdings; and if they are they will be controlled by *our* company.

Regarding the warrants. I'm not quite sure how you derive your numbers.

It appears there are 18 mln (of the orignal 20mln since 2mln were surrended) @ $1, but each warrant (being american style) isn't for 1 share. It's for 1.1 shares in this case. So the warrants allow purchase of a share at 90c US. This is about 55p; I expect thes to be in the money and worth exercising. Of course, if they are exercised the company gets the cash so whilst they are dilutive in terms of issued capital it should be insignificant in asset values per enlarged share.

I can't find anything in there related to options, so is there a document which supersedes this filing?

Cheers,

Simon.



Posts

: 6


Join date

: 2010-10-27


Location

: Somerset



I agree you're right they're not completely locked in.
I got the warrants/options from note 5 of the
Q2 results
.They state 19.8m warrants at $1 but this is the same as 18m at $1.1. Most of these expired in Sept. Options from same source.
Best,
Chris



Posts

: 5


Join date

: 2010-10-27



Chris,

Ok, I'll go back through the Q2 results. Thanks.

A slightly off the wall thought re the warrants. There is the potential to raise 3 mill by virtue of them being in the money - dilution is likely to be negligible. I'll have a good ferret through the Q3 results when they are released, but it could be a very cheap source of working capital. Of course trying to figure out cash burn rates might be tricky.

Regards,

Simon.







Posts

: 6


Join date

: 2010-10-27


Location

: Somerset





Similar topics
---
Permissions in this forum:
You
cannot
reply to topics in this forum